in stock

This MIllroad Film releases are in stock:

DVDs:
Fasan från Avgrunden (SWE)
Terror from the Abyss (ENG)
Vågbrytare: Specialversion (SWE
One Man Army Legends: Limited edition (ENG)
Sagan om Livets Melodi (SWE
One Man Army: Limited edition (ENG)
El toro negros: The complete trilogy: Limited edition (ENG)
No can do: The Hi-story: Sound and sessions 96-97 (SWE)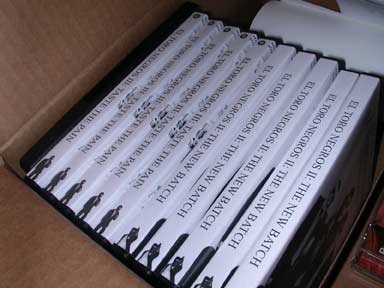 VCDs:
El toro negros (SWE/ENG)
El toro negros II (ENG)
El toro negros III (ENG)
The El Toro Collection (4-disc, 3 VCDs + 1 CD-rom) (ENG)


Merchendise:
Millroad Film T-shirt, lime green (M, L)

Quality
The releases of Millroad Film are products spawned out of the swedish underground. The package and look can be poor but it holds pure independent pride.

The films are burned on DVD-Rs or CD-Rs and in PAL format.

Order
It doesn't matter where you are on this globe... Send a Millroad a mail with an order and your mailbox will soon be filled with a sweet film experience.

<< back
Content © Millroad Film/Daniel Lenneér 2002-2010